Toroidal Transformers
The efficiency and compact size of a toroidal transformer provide solutions when regular EI lamination transformers fall short. Zettler's toroidal production capability allows a wide range of power size and input / output voltage options, all customizable to an application's requirements.
Benefits
Low Magnetic Noise
High Efficiency
Excellent Load Regulation
Easy Assembly
Very Low No-load Losses and magnetizing Current
Features
100V / 110V / 117V / 120V / 220V / 230V / 240V, 50HZ / 60HZ
Dielectric strength 3KV,1min.
Power range 20VA to 5000VA Available according to customer's requirement
Class B insulation System
optional single or Dual Primary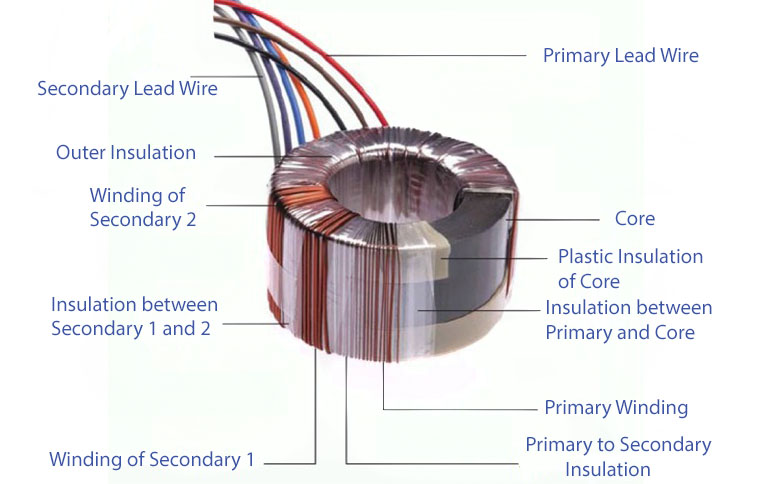 Outline Dimensions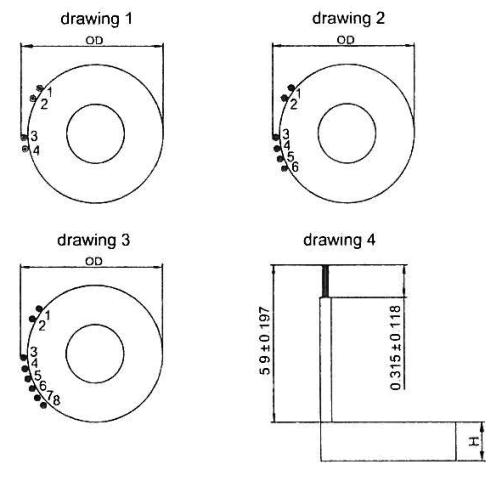 Schematic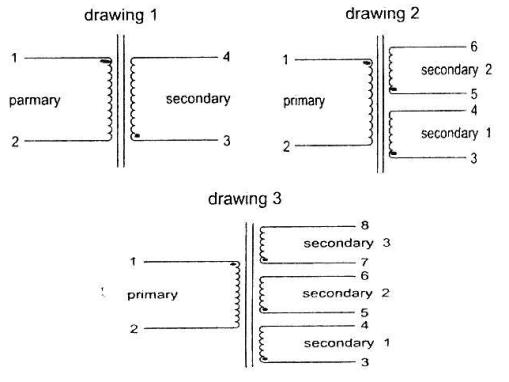 Production Capabilities
Please use this Custom transformer request page for custom design requests – please specify input, output and power requirements.
Item

Power

AC Output

Dimension

Weight

Voltage range

Current range

OD

H

VA

V

A

In

mm

In

mm

Ibs

Kg

1

20

12 ~ 24

0.84~1.67

2.5

63

1.3

33

0.73

0.33

2

25

12 ~ 24

1.04~2.08

2.6

65

1.4

35

0.84

0.38

3

30

12 ~ 24

1.25~2.50

2.8

70

1.6

40

0.99

0.45

4

35

12 ~ 24

1.46~2.92

2.8

72

1.6

40

1.08

0.49

5

40

12 ~ 24

0.84~1.67

3

75

1.6

40

1.17

0.53

6

45

12 ~ 24

1.67~3.75

3

75

1.6

40

1.26

0.57

7

50

12 ~ 36

1.67~3.75

3.1

80

1.6

40

1.5

0.68

8

60

12 ~ 36

1.67~5.00

3.3

83

1.7

43

1.61

0.73

9

70

12 ~ 36

1.95~5.84

3.3

85

1.7

43

1.83

0.83

10

80

12 ~ 36

2.22~6.67

3.5

90

1.7

43

2.16

0.98

11

90

12 ~ 36

2.50~7.50

3.7

95

1.7

43

2.31

1.05

12

100

12 ~ 36

2.78~8.34

3.9

100

1.7

43

2.65

1.2

13

150

12 ~ 24*2

3.13~6.25

4.1

105

1.9

48

3.31

1.5

14

200

12 ~ 24*2

4.17~8.33

4.3

110

2

50

3.97

1.8

15

250

12 ~ 24*2

5.21~10.42

4.7

120

2.1

53

4.85

2.2

16

300

12 ~ 24*2

6.25~12.50

4.7

120

2.2

55

5.29

2.4

17

350

12 ~ 24*2

7.29~14.58

4.8

123

2.3

58

5.84

2.65

18

400

12 ~ 24*2

8.33~16.67

4.9

125

2.4

60

6.39

2.9

19

450

24 ~ 48*2

4.69~9.38

5

128

2.5

63

6.61

3

20

500

24 ~ 48*2

5.21~10.42

5.1

130

2.6

65

7.05

3.2

21

600

24 ~ 48*2

6.25~12.50

5.2

132

2.6

65

8.42

3.82

22

700

24 ~ 48*2

7.29~14.58

5.7

145

2.6

65

9.48

4.3

23

800

24 ~ 48*2

8.33~16.67

5.7

145

2.8

70

10.05

4.56

24

900

24 ~ 48*2

9.38~18.75

5.9

150

2.9

73

10.87

4.93

25

1000

18 ~ 36*2

6.95~13.89

6.3

160

3

75

12.13

5.5

30 ~ 60*2

4.17~8.33

26

1500

18 ~ 36*2

10.42~20.83

6.7

170

3.1

80

15.54

7.05

30 ~ 60*2

6.25~12.50

27

2000

18 ~ 36*2

13.89~27.78

7.1

180

3.3

85

19.18

8.7

30 ~ 60*2

8.33~16.67

28

3000

12 ~ 24*2

10.42~20.83

7.7

195

3.5

90

25.57

11.6

24 ~ 48*2

10.42~20.83

40 ~ 80*2

9.38~18.75

29

4000

12 ~ 24*2

10.42~20.83

8.1

205

3.7

95

31.53

14.3

24 ~ 48*2

15.63~31.25

40 ~ 80*2

12.50~25.00

30

5000

12 ~ 24*2

10.42~20.83

8.5

215

3.9

100

37.04

16.8